Oh man it's been a minute! The long absence hasn't been from laziness, in fact just the opposite; we've been busy! Where to start… well, WE'VE MOVED TO A NEW (LARGER) LOCATION! Our new address is 4542 N. Broadway and it's quite the upgrade over where we came from. The buildings gone through an amazing transformation over the last 6 months or so and I want to take a second to thank all the members who have lent a hand in the renovation. If it wasn't for their assistance, we would've never been able to make the move in the time frame we did. For those of you reading who had never stopped by our old space, there wasn't much to it; just a workout floor and a little storage closet. Now we've got our own bathrooms and shower and dedicated kids space… man, it's them little things! I feel like we've just been introduced to the wheel. Or sliced bread. Or indoor plumbing. But now it's time to open our door to everyone to check it out!
We're planning our grand opening Sept. 12th. We'll have a full mid-day of activities, challenges and talking sessions so people can come and go and still be able to partake (or witness) in the fun, along with a burger and brat luncheon at noon. Everything will kick off at 10 am. Mark your calendars and I hope to see you there!
Another date you can mark in you calendar is September 6th. On the Sunday, Sept. 6th we'll be doing our annual Murph Challenge. Now, normally we'd do this workout in May over Memorial Day weekend, but… covid… so we moved it to Labor Day instead. It's always been a great workout to pay honor to our fallen men and women with and this year it's going to be the capstone to our summer of hero workouts. All are welcome to join in the workout! We'll go over the story behind it and then go over all the options people have for ways to get through it – we can adjust to anybodies abilities! Everything will kick off at 2 pm!
One of the new things we have added to the schedule is our CrossFit Kids and Teens classes. I'm not sure who's been enjoying the addition more; the kids or the adults! If you're interested in getting your young one into a fun fitness class, give us a call or shoot us an email!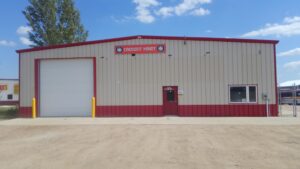 Again, I want to thank all the members who helped out in the renovation process; all the members who have taken the time to talk me back to some resemblance of sanity; and all the former members who have helped shape CrossFit Minot throughout all the years. Thank you all.
– Jerad.
And if you've read this far, you deserve a treat: "Why can't a nose be 12 inches long? Because that'd be a foot."