Fall days got you in a funk? Snap out of the cold snap, get your body in motion and put that fire back in your routine. We're kicking off our next On-Ramp class on Monday, October 8th at 7pm. We're sticking with the same 3 week program, just switching up the days to Mon/Tue/Thur, meeting at 7pm each night. If you've been interested in getting started in CrossFit, this is the perfect intro for any one of any fitness level. We'll go over positions and movement progressions, diet and supplement suggestions and recommendations, and answer any and all questions you might have. If you have any questions about the On-Ramp you can call or e-mail CrossFit Minot at 701-240-1082 or aasen3000@yahoo.com. Since we are moving the dates of the On-Ramp, we're going to have to put Yoga on hold for October, but watch for it to be back in November!
One of the greatest parts about CrossFit is the community of people it transplants you into. People from all walks of life working out together, encouraging one another, pushing each other to strive for "better"; be it times and lifts or habits and diets… And we love to have fun! So, here are some dates we're going to be doing those fun things; if you're free, come join us!
Saturday, Oct. 13th: CrossFit Minot has 3 pairs of athletes heading down to Mandan, ND for a Festivus Games being held by the folks at CrossFit Mandan, and we're going to caravan down to support them! I've been to a handful of Festivus Games throughout the years and I've always been impressed with the amount of hard work and determination the athletes put out.  That alone will keep you cheering and on the edge of your seat the entire day. But if you do need a little more, there will be a local coffee shop setting up at the venue and food truck parked outside to keep you going throughout the day. After the competition wraps up, we're going to do a big family meal to celebrate the day!
Saturday, Oct. 20th: We will be hosting our 6th annual Barbells for Boobs fundraiser! Typically the workout "Grace" has been the go to for the occasion, but this year we're going to step it up a bit. If you plan on working out, come ready to play! If you plan on coming just to watch, enjoy the show! Either way we'll be getting together to support a great organization that is helping folks who are denied or can't afford screening for breast cancer get checked. And after the workout is complete, we'll stick around and enjoy a BACON themed brunch! So bust out the pink workout gear, find your favorite bacon delicacy to share and come have a great time. We will have a bucket out for cash donations on the day of, but if you'd rather donate online, go to https://www.barbellsforboobs.org/fundraisers/crossfitminot .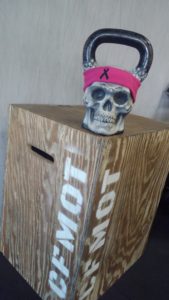 -Ol' Sir Henry sporting his pink headband.
Saturday, Oct. 27th: Be on the lookout for the CrossFit Minot group in costume out on the town! We'll be cruising around in a party bus, stopping randomly to wet our whistles. So if you bump into us at your favorite watering hole, make sure to say hi and snap a pic!